Uncertainty in Portugal, Greece, and Egypt sparked market volatility last week. Additional signs of a lagging Chinese economy also contributed. However, the U.S. added 195,000 jobs in June. Revised April and May totals included an additional 70,000 jobs for those two months. The unemployment rate held firm at 7.6%, as more workers entered the expanding labor force, but 11.8 million U.S. workers remain jobless and the percentage of part‐time workers seeking full‐time jobs rose to 14.3% from 13.8% in May. The U.S. trade deficit grew by 12%, as global weakness led to a 0.3% decline in exports. Imports rose 1.9%. Import demand was strong for automobiles, consumer goods, and capital goods. US factory orders rose 2.1% in May. Auto sales increased at their strongest rate in more than five years in June. The ISM manufacturing index rose to 50.9 in June from 49 in May.
Political uncertainty in Egypt helped push the price of a barrel of oil to $102, a 14‐month high. Global supply and a drop in U.S. inventories also influenced oil prices. Political concerns in Portugal forced the yield on their 10‐year bonds to 8% briefly. The UK's services sector expanded at its fastest pace in two years, while eurozone retail sales grew slightly in May. China's manufacturing purchasing managers index fell from 50.8 to 50.1 in May. The HSBC manufacturing PMI showed contraction, dropping to 48.2 from 49.2 in May.
The S&P 500 Index gained 1.59%, and the DJIA rose 1.52% last week. Nine of ten S&P 500 sectors posted gains with utilities as the sole loser. Consumer discretionary, financials, and technology posted the largest gains of the week, while utilities, consumer staples, and telecommunications were the worst performing sectors. Crude oil jumped 6.9%, and gold dropped ‐0.9%. 10 year U.S. Treasury yields closed the week at reached 2.74%, the highest level since August 2011.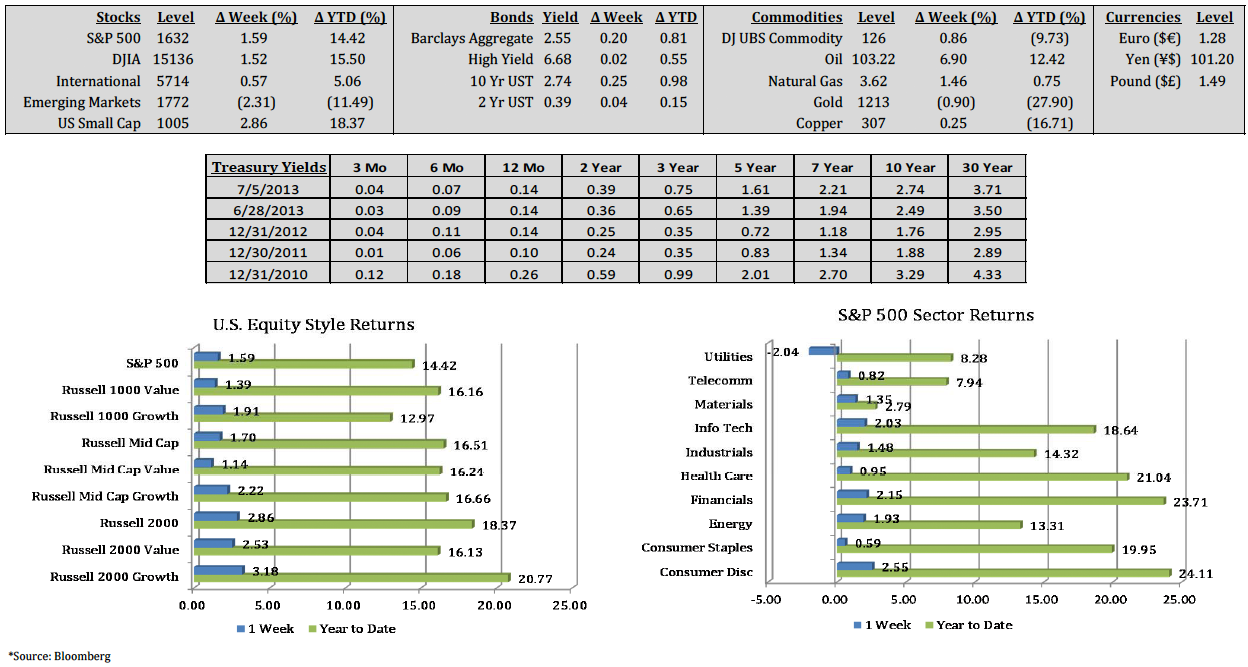 (Click image to enlarge)