Ben Bernanke repeated reassurances on easing, saying the Fed would continue to provide "a highly accommodative monetary policy for the foreseeable future." The Fed's comments combined
with favorable corporate earnings reports to boost the S&P 500 to a new record level last week. The city of Detroit declared bankruptcy with liabilities of more than $18 billion. U.S. consumer
prices rose 0.5% in June, driven by higher gasoline prices. The CPI is up 1.8% from a year ago, with core prices 1.6% higher. The Fed's Beige Book included mixed economic data. Industrial
output increased by a seasonally adjusted 0.3% in June. Retail sales rose 0.4%, falling short of the 0.8% expected gain. Factory activity in New York increased in July. However, housing starts fell
9.9% in June and building permits declined 7.5%.
More economic data in China indicate slower growth for the world's second largest economy. Disposable income for urban households in China grew 6.5% in the first half of 2013, down from
9.7% growth in the prior year. Retail sales grew 12.7% year on year in June, down from 14.4% in June 2012. European auto sales fell to their lowest point in 17 years in June, reflecting
widespread weakness. Sales dropped 4.7% in Germany and 8.4% in France.
The S&P 500 Index gained 0.71% last week, and the DJIA rose 0.51%. Eight of ten S&P 500 sectors posted gains. Utilities, energy, and industrials led all sectors, while technology, consumer
discretionary, and telecommunications were the poorest performing sectors. Technology and consumer discretionary were the only sectors to post losses for the week. Crude oil gained 1.98%,
and gold rose 1.13%. The 10 Year U.S. Treasury dropped to a yield of 2.48%.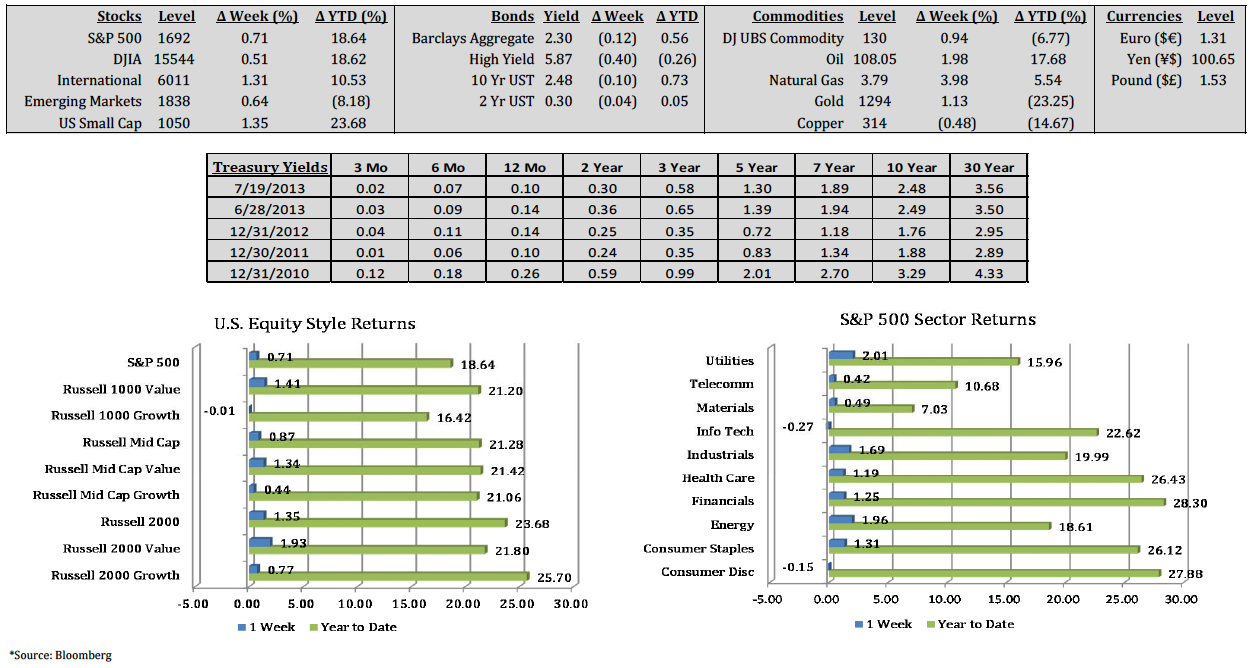 (Click image to enlarge)