Fed Chairman Bernanke reassured markets that the Fed would not end its monetary stimulus measures until the country's labor market has stabilized, potentially reaching an unemployment
rate of below 6.5%. Markets rallied globally after Bernanke's statement as the S&P 500 Index reached an all‐time high last week. Borrowing by U.S. consumers grew more than expected in May.
Revolving credit rose at a 9.3% annual rate, while non‐revolving credit rose by 7.9%. Consumer borrowing has increased for 21 straight months.
The IMF cut its forecast for global growth in 2013 and 2014, due to increased expectations that the Fed will ease out of its stimulus program. They project the global economy to grow 3.1% this
year and 3.8% next year. S&P downgraded the debt rating of Italy by one notch with a negative outlook, citing Italy's deteriorating economic prospects. The EU unveiled its bank‐failure program,
the Single Resolution Mechanism, as a way to repair the eurozone's banking system without pressuring taxpayers to help bail out banks. The burden would fall more on the banks, their
shareholders, and their creditors. China's exports dropped by 3.1% and imports dropped 0.7% unexpectedly in June from a year earlier.
The S&P 500 Index jumped 2.96% and the DJIA gained 2.17% last week. All ten S&P 500 Index sectors posted gains. Utilities, consumer staples, and technology led all sectors, while telecomm,
financials, and energy posted the smallest gains. Crude oil was up 2.64% to close at $105.95, and gold gained 5.35% to close the week at $1,278. 10 year U.S. Treasury yields stabilized slightly to
2.58%.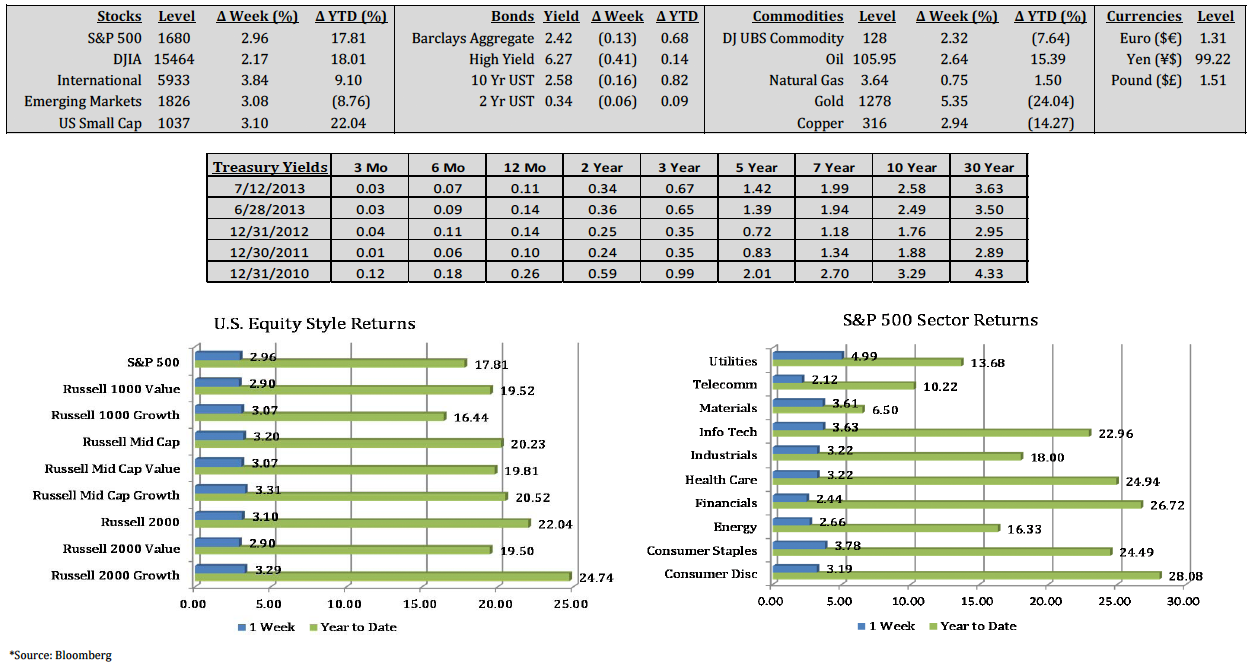 (Click image to enlarge)